Konica 7135 Digital Copier
Transforming Digital Office Workflow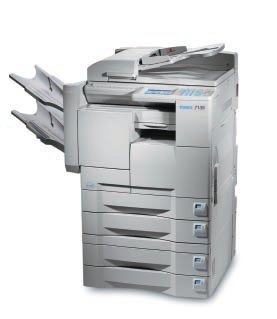 The Konica 7135 combines functionality with productivity for today's demanding workgroup environments. Designed to be modular, this 35 page-per-minute digital MFP provides copy, print, scan and fax functionality all in one compact footprint. Built around Konica's proven engine design, the new 7135 delivers more consistent, higher quality output than other devices in its class with Konica's breakthrough Simitri™ Polymerized Toner, which maintains the uniformity of the toner particles to produce clean, crisp 600 x 600 dpi resolution with an offset-like look. Fully networkable, the 7135 features "Scan Once, Print Many" technology and an intuitive, user-friendly and interactive touch screen for easy access to all advanced features including scan-to-e-mail, scan-to-hard drive and scan-to-FTP functions. Additional versatility is achieved with a three-way standard paper supply along with two optional drawer bases to allow for a maximum online capacity of 2,550 sheets. The optional IP-423 print controller, optional 2 GB hard drive, standard PCL5e/6 emulation and innovative IP Connexion™ Web Utilities also provide added convenience by enabling users to configure the multifunctional capabilities to meet their needs. The Konica 7135 . . . designed to meet even the most varied office requirements.
Konica 7135 Highlights
35 ppm Printing / Copying
600 x 600 dpi Resolution
Simitri™ Polymerized Toner
32 MB Standard, 288 MB Maximum Copier Memory
Optional 2 GB Hard Drive (Required for Scanning)
Standard 64 MB Print Controller Memory
IP-423 Print Controller with Standard Network Interface Card
Optional Dual Line Fax
Up to 2,500-Sheet Paper Capacity
Stamp, Watermark, Reserve Copy Job and 5 Copy Job Memory, One-Time Image Overlay
Konica 7135 Features
Integrated Printing, Copying, Faxing, Scanning:
A fully networkable 4-in-1 MFP, the 7135 delivers functionality and productivity in one of the easiest to set up and configure packages available today.
A Wide Range of Finishing Capabilities:
The 7135 offers two enhanced finishing options for a wide range of workgroup or department needs: The IT-101 Internal Tray offers modes for non-sort, rotation sort, group mode and rotation group mode. The FS-107 Finisher provides even more options for increased effectiveness – initially equipped with two trays, it can be expanded with up to two additional trays for modes including non-sort, sort, staple sort or group sort.
Enhanced Functionality:
The capability to scan-to-e-mail, scan-to-hard drive and scan-to-FTP comes standard with the IP-423 print controller, which features a 300 MHz processor, 192 MB maximum memory and optional 2 GB hard drive (required for scanning). The new FK-102 Fax Kit delivers more with the added benefits of a total of 40 one-touch keys, standard JBIG compression for added speed and a dual-line option.
Simitri™ Polymerized Toner:
Breakthrough Simitri™ Polymerized Toner Technology provides significantly better halftone definition and better solid fills. By maintaining toner particle uniformity, Simitri toner produces more consistent output than traditional methods, achieving clean, crisp 600 x 600 dpi resolution with an offset-like look.
Modular Design:
This truly multifunctional system is designed to grow as your document production needs grow. Optional expanded memory, large capacity drawer bases, document feeder, print controller and fax kit allow for easy customization to meet current and future needs.
Innovative Web Utility:
New, more graphical IP Connexion™ Web Utility 2.0 provides instant information about the machine's configuration, from paper and accessories to network settings, from any browser.