Konica 7022 Digital Copier
Setting a New Standard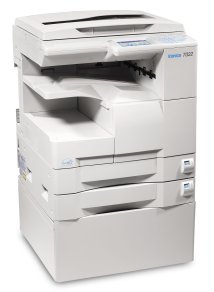 Introducing the 7022 Workgroup Document System, the latest in a series built for the smaller office with bigger print ideas. This affordable, 22 page-per-minute digital MFP is setting a new standard in 4-in-1 multifunctional product technology designed for workgroup environments. Fully networkable, the 7022 prints at 600 x 600 dpi with "Scan Once, Print Many" technology. Its intuitive, user-friendly and interactive touch screen provides easy access to all advanced features including scan-to-email, scan-tohard drive and scan-to-FTP functionality. Its strength is its versatility. The 7022's optional IP-422 print controller with standard network interface card, all new optional PostScript®3 kit and enhanced FK-102 Super G3 Fax Kit with standard JBIG compression allows users to configure the multifunctional capabilities to meet their needs. The Konica 7022, sets a new standard for Workgroup Document Systems.
Konica 7022 Highlights
22 ppm Printing / Copying
600 x 600 dpi Resolution
Standard 32 MB Copier Memory
Standard 64 MB Print Controller Memory
Optional 2 GB Hard Drive (Required for Scanning)
Optional IP-422 Print Controller with Standard Network Interface Card
Optional Dual Line Fax
Up to 2,500-Sheet Paper Capacity
Stamp, Watermark, Reserve Copy Job and 5 Copy Job Memory, One-Time Image Overlay
Konica 7022 Features
Integrated Printing, Copying, Faxing, Scanning:
The Konica 7022 digital engine is setting a new standard for Konica Workgroup Document Systems. This fully networkable 4-in-1 MFP delivers the high-performance ideal for low- to mid-volume workgroups.
Touch Screen Controls:
Truly user-friendly, the intuitive and interactive touch screen provides easy access to all enhanced features that the 7022 has to offer, also providing unique print driver applications such as Stamp and Watermark options.
Modular Design:
This truly multifunctional system is designed to grow as your print needs grow. Optional expanded memory, large capacity drawer bases, document feeder, print controllers and fax kit allow for easy customization to meet current and future needs.
Enhanced Functionality:
The Konica 7022 has the capability of both scan-to-email, scan-to-hard drive and scan-to-FTP as standard equipment with the IP-422 print controller. The new FK-102 Fax Kit delivers more with an added benefit of a total of 40 one-touch keys, standard JBIG compression for added speed and a dual line option*.
New PostScript3® Printing:
There is the option to add a PS-343, PostScript®3 print kit to the Konica 7022. Unlike the previous generation 7020-7030 series, this all new PostScript kit does not require the addition of the optional print controller hard drive or the optional print controller memory upgrade.
IP-422 Print Controller:
The optional IP-422 print controller is a 133 MHz, PCL5e / PCL6 print controller that includes a network interface card as standard equipment, standard 64 MB of memory with an additional 64 MB (MU-411) available.